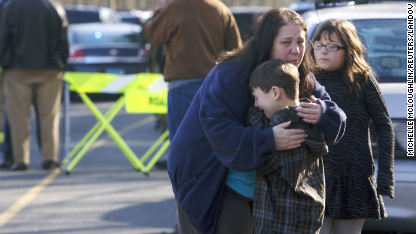 Sitting here in London watching the news coverage of the
horrific shooting
at the Sandy Hook Elementary school in Newtown, Connecticut. A shooting that claimed the lives (so far) of 26 people 20 of them children. I truly do not know what to write, or say....
But I do know what I don't want to read, or hear...
I don't want to read comments on how this tragedy would have been averted if the teachers had been carrying guns, so don't write them, I won't post them. I don't want to read mindless pap that says "guns don't kill, people do", because only an idiot can't see how having the gun in the first place helps make horrors like this possible. So don't bother writing it, I won't post it
I don't want to hear perverse misinterpretations of the 2nd Amendment . Spare me the Fox News BS that stricter controls on guns wouldn't have helped prevent this. When in 2011 the UK death toll from homicide by handgun was 8, and in the US was over 10,000, regurgitated NRA propaganda just makes whoever is spewing it look heartless and stupid. So spare yourselves the embarrassment , and turn your computer off and for now, just be quiet.
Because on this day, when 20 children are dead partly because of the American FETISH with firearms, on this day, you have nothing to say. So just don't...
May the grace and peace of almighty God, be with the people of Connecticut , and may we all be granted the wisdom to do what needs to be done to ensure horrors like this never happen again.